Haarlemmermeer, Aalsmeer and Uithoorn
Haarlemmermeer, Aalsmeer and Uithoorn's proximity to Amsterdam Airport Schiphol is an advantage for businesses with international operations, customers, suppliers and interests, and has attracted a host of global players to the region.
The world at your fingertips
The municipalities of Haarlemmermeer, Aalsmeer and Uithoorn form a perfect location for businesses that require quick international connections. Centred around Amsterdam Airport Schiphol, which provides access to around 300 destinations worldwide, this region has become very attractive to international businesses and suppliers, as well as logistics and distribution centres. The Haarlemmermeer, also known as Amsterdam Airport City, is the economic engine for the area with a growing number of trend-setting companies setting up shop in cutting-edge sustainable business parks.
67 business parks with greenfield and brownfield opportunities
Direct access to 300+ destinations worldwide through Amsterdam Airport Schiphol 
Home to more than 700 international companies and global headquarters
Just 4 minutes from Amsterdam Airport Schiphol to Hoofddorp Business District
Leaders in sustainability and circular economy
Travel is easy from Amsterdam Airport Schiphol, which is one of Europe's best airports for international flight connections. With 111 airlines servicing about 300 destinations, Amsterdam Schiphol Airport offers the most direct scheduled flights of all mainland European Airports. The area provides excellent transport links, including a high-frequency domestic rail network and exceptional motorway access when travelling by car.
The city Hoofddorp is the hub of Haarlemmermeer, featuring business parks, living areas and situated only a 4 minute train ride from the airport. The city centre of Amsterdam is only is 14 minutes further, with other major Dutch cities such as Leiden (16 minutes), the Hague (29 minutes), Utrecht (30 minutes) and Rotterdam (20 minutes) also within easy reach. Residents benefit from prioritised bus lanes and a highly developed public transport system.
Prevalent industries, including sub-sectors
Set amidst the outstanding road, rail and air connections around Amsterdam Airport Schiphol and being one of the most digitally connected regions in Europe, it's not a surprise that smart logistics and aerospace are two of the strongest sectors in the region. The worldwide connection also attracts international companies from tech, life sciences and health, consumer goods and energy industries as well. Whether your core business is in digital solutions, renewable diesel, or life-saving pharmaceuticals, it pays to have the world at your fingertips – as well as immediate access to Europe's main markets.
The area surrounding Amsterdam Airport Schiphol is home to more than 700 international companies and headquarters. FedEx, TUI, OTX and Blue Water Shipping are some of the companies focused on innovations in logistics to be come more efficient and sustainable.
Amsterdam Airport City has proven to be a particularly valuable location for companies in offshore, renewable and smart energy as well as life sciences and health. Two of the most sustainable energy companies in the world, Neste and Schneider Electrics, have their offices here. Rapidly expanding life sciences companies Kite, Abbott and AbbVie have also set up shop here thanks to the supportive ecosystem and close proximity to the European Medicines Agency and Bio Science Park in Leiden.
With data centres and leading internet exchange AMS-IX right around the corner, the area has also drawn interest from tech companies like Microsoft, Samsung, Omron, Nutanix, Irdeto, McAfee, Liberty Global and Tampnet.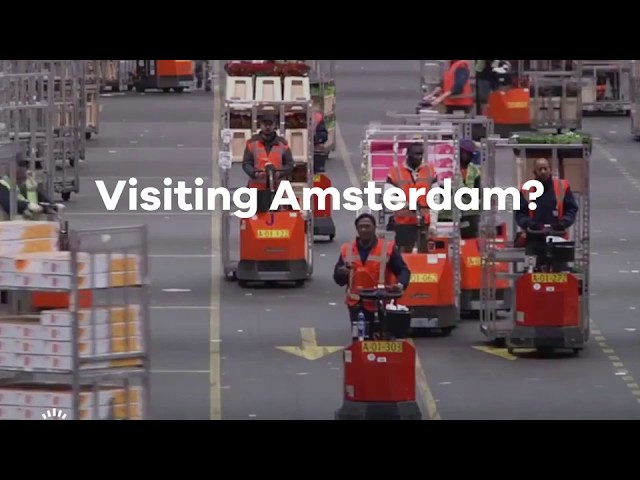 Business parks and office locations 
This area is known for its cutting-edge office space and sustainably-minded business facilities. Some examples include:
Park 20I20 in Haarlemmermeer - the world's first cradle to cradle business park combining sustainable, energy neutral designs with an optimal ecological approach.
Green Square Business Campus is currently underway in Aalsmeer and will be a collaborative environment where companies in life sciences and health and other innovation industries can come take advantage of state-of-the-art lab, production, testing, and office space.
SADC's Schiphol Trade Park is the world's most sustainable logistics business area, receiving the highest possible Breeam certification and serving as a hub for the circular transition.
There are now more than 67 business parks and office locations in Amsterdam Airport City.
Business trips, events and international meetings are all made easy by being next door to one of the most well connected airports in Europe. Rates for offices and other business locations are also significantly lower than in Amsterdam or other major cities in the Randstad. At the same time, Amsterdam's lively business ecosystem, culture and gastronomy are just a short train ride away. Amsterdam Airport City also offers a stable economic climate. In recent years, it has taken first place as the strongest economy in the Netherlands.
Haarlemmermeer, Uithoorn and Aalsmeer are home to small neighbourhood communities, modern housing options, lush green landscapes and convenient connections to Amsterdam city centre. These features make the region popular with young families, who can choose from both urban or rural living. Residents who love to travel, visit family and friends overseas, or have visitors from abroad benefit from the close proximity to Amsterdam Airport Schiphol.
Living in Haarlemmermeer, Uithoorn and Aalsmeer also means living by the water: there is an abundance of lakes, rivers and canals in the region. Many of these waterways and lakes are connected to each other, offering additional possibilities for recreation and water sports.
For more information about doing business in Haarlemmermeer, visit the Amsterdam Airport City website or contact IN Amsterdam to start your one-stop-shop registration. This is available for international newcomers in the Haarlemmermeer region and ensures a smooth transitionand provides a warm welcome.