Hilversum, the Gooi and Vechtstreek
Hilversum is the centre of the media and entertainment industry in the Netherlands, and home to all the major Dutch broadcasters and international production companies. Young businesses in the city are breaking down barriers between traditional and digital media.
Take your brand worldwide from Green Amsterdam
Located in the area known as the Gooi and Vechtstreek, Hilversum is the centre of the Netherlands' media and entertainment industry and provides career opportunities for more than 12,000 media professionals. Along with all major Dutch broadcasters, many international production companies call this area home.
Hilversum's Media Park houses numerous young businesses that break down boundaries between traditional and digital media. Other business centres in the area include Arenapark, home to Nike's EMEA headquarters, and Werf35 - a hub for gaming and creative industries. Many international headquarters and other large companies are also located in and around Hilversum. More than 23,000 professionals in the region work in the creative industry. Frequent, fast and direct train connections run to Amsterdam (20 minutes), Amsterdam Airport Schiphol (30 minutes) and Utrecht (15-20 minutes). This makes commuting or meeting with Amsterdam-based partners and clients easy, and provides a good connection for business trips.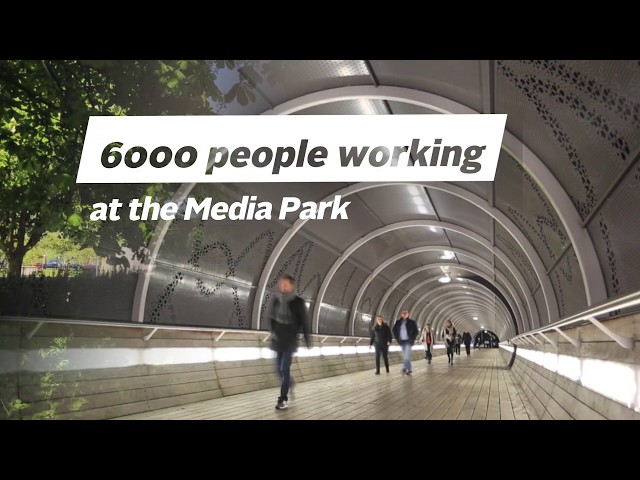 Centre of the country's media and entertainment industry
Home to many major international headquarters
Frequent and fast connections to central Amsterdam, Schiphol and Utrecht
Green spaces, good housing and several international schools attract international talent
The area has excellent public transport links to Amsterdam, Amsterdam Airport Schiphol, Almere and Utrecht. Vehicles have easy access to the A1 and A27 motorways.
Hilversum is the Netherlands' media and entertainment capitol, home to many production companies, radio and television studios and multiple broadcasting organisations. Production companies and broadcasters in Hilversum include Talpa Media, MediaMonks, Ericsson subsidiary Red Bee Media, United, VPRO, NOS, VARA and Radio Netherlands. Many of the region's media companies are located in and around the city centre with most concentrated in the Media Park. The Gooi region is also home to big international companies and major headquarters like Nike, Sonos, Hunkemöller, event producer and broadcaster NEP, International Flavors and Fragrances (IFF), Xebia, Abbott healthcare products in Weesp, Givaudan in Naarden, XEMC Darwind and SLTN.
Hilversum's extensive media ecosystem makes a presence here almost mandatory for companies in the industry. The area offers countless opportunities for doing business and networking. With the Amsterdam Internet Exchange (AMS-IX) right next door providing one of the largest data-transport hubs in the world, the area has exceptional digital connectivity for bandwidth-hungry businesses. In addition, excellent transport and road connections ensure potential clients and creative partners in central Amsterdam and are never far away. With Amsterdam Airport Schiphol a mere 30 minute train ride, neither is the rest of the world.
Media professionals working in Hilversum and internationals employed by a major company are well cared for. The area known as the Gooi & Vechtstreek is characterised by lush countryside, picturesque historic villages, untouched natural spaces and beautiful lakes. Positioned southeast of Amsterdam's city centre, the area is compiled of several cities and towns in addition to Hilversum which include Bussum, Naarden, Huizen, Laren, Blaricum, Weesp and Muiden.
All offer a popular blend of upmarket luxury, traditional village atmosphere, and modern living. Commuters can reach Amsterdam or Utrecht in 20 minutes with a direct train connection. There is also a great selection of both private and public international schools in the area. In addition, there are various expat groups and clubs for internationals. IN Amsterdam's one-stop-shop registration service is available for international newcomers interested in settling in Hilversum.