Living in Haarlemmermeer, Aalsmeer and Uithoorn
The Haarlemmermeer region offers easy connections to Amsterdam Airport Schiphol for international travel, a good selection of public and international schools, and plenty of green space for outdoor activities.
The world on your doorstep
Haarlemmermeer and the area surrounding Amsterdam Airport Schiphol offers a variety of housing options particularly suited to international residents. The area includes Hoofddorp, Schiphol, Aalsmeer, Uithoorn, Kudelstaart, Badhoevedorp and Nieuw-Vennep, and is home to small neighbourhood communities, modern housing options, lush green landscapes and convenient connections to Amsterdam city centre (Haarlemmermeer is just 25 minutes from Amsterdam Central Station, for example).
Branded Amsterdam Airport City, the region's proximity to one of the best-connected airports in Europe is a clear advantage for international business trips and residents who frequently visit family overseas. Many international businesses are also headquartered on the airport's doorstep (such as Asics and Lóreal). While a growing number of trend-setting companies are setting up shop at cutting-edge business parks around the region, resulting in a wealth of career opportunities.
Why live in Haarlemmermeer, Aalsmeer or Uithoorn?
- Have the world on your doorstep
The area is very convenient for travel and transport connections. Easily travel to Schiphol Airport – one of Europe's best airports for international flight connections. The area also has convenient motorway access for travelling by car and many houses have off-street parking. Hoofddorp is only 4 minutes away from Schiphol Airport by train, while the city centre of Amsterdam is only 15 minutes further. Major Dutch cities like The Hague, Utrecht and Rotterdam are also within easy reach.
- Spacious, modern and sustainable housing
The area offers an impressive selection of modern housing, ranging from single-family homes to low-rise apartment blocks. Space is available for building new homes and the area is ahead of circular and sustainable construction initiatives. New residential developments including Hyde Park in Hoofddorp, TudorPark and Badhoevedorp's Park Quatrebras will provide even more housing in coming years. In 2018, Haarlemmermeer was voted the most sustainable municipality in the Netherlands. The average price per square metre is significantly less than in Amsterdam.
Expansive parks, farmland and gardens contribute to the area's relaxed lifestyle. The area borders the flower-growing region of the Netherlands, which bursts to life in vivid colours every spring and summer, while the world's largest flower auction is based in the neighbouring city Aalsmeer. Even in a bigger city like Hoofddorp, you're never far from open green spaces, such as the 1000-hectare Park 21 and the Toolenburgplas lake.
- Innovative business parks
The area is well-known for its innovative business parks, such as Park 20 | 20 south of Amsterdam Airport Schiphol, which has been created fully in accordance with the cradle-to-cradle principle and where all buildings are energy-neutral.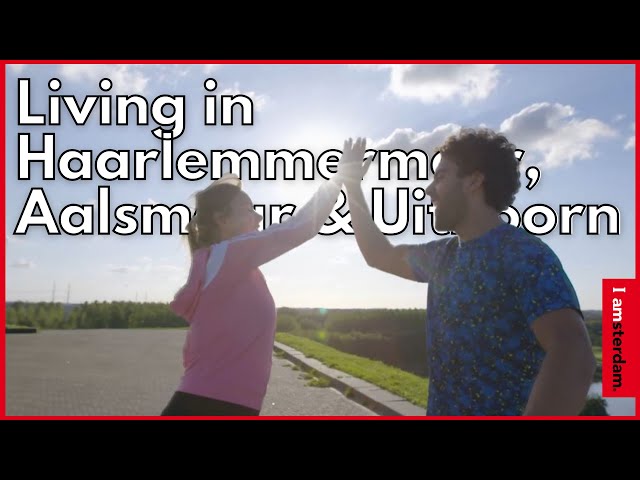 Internationally orientated schools
- Klavertje Vier (ages 0 to 13), a Roman Catholic primary school, offers Early Foreign Language Instruction in addition to the regular Dutch curriculum.
- Optimist International School (ages 4 to 12), an international primary school, offers the International Primary Curriculum (IPC) with learning guidance taken from the British national curriculum for languages and mathematics.
- Haarlemmermeer Lyceum (ages 12-18) offers a bilingual programme for students at different levels of the school's Dutch curriculum: MAVO, HAVO and VWO.
Feel at home more easily with community groups such as expatsHaarlemmermeer – an English-speaking social and business network that provides support services for international newcomers and hosts frequent community events. New international schools and expansions have attracted many international families to the area, while innovative school concepts such as bilingual and vocational schools that cover all education levels are part of the public school system.
IN Amsterdam's one-stop-shop registration is available for international newcomers in the municipality of Haarlemmermeer.
You can reach the municipality of Haarlemmermeer by calling 0900 1852 from within the Netherlands, or 00 31 23 56 76 543 if you are calling from abroad.