Living in Almere and Lelystad
The Netherlands' newest cities, Almere and Lelystad, were built on land that was reclaimed from the sea in a feat of Dutch engineering. 
Modern living and opportunities to build
Since the first homes were built here in the 1960s and '70s, these cities have developed into well-planned residential areas with world-class architecture, lakes and criss-crossing waterways, modern infrastructure and excellent transport connections. Aside from being one of the most distinctive and diverse areas to buy housing in the Amsterdam Area, there are also opportunities to design and build your own home. And with room to expand, it's perhaps no surprise that Almere is now the second largest city in the Amsterdam Area.
Having earned the nickname 'Amsterdam New Land', the area maintains an innovative outlook and an attitude of regeneration and invention. Its urban planners and architects look to the future, cutting-edge international companies are increasingly attracted to the region, and more and more music, culinary and cultural festivals and events are making the most of the variety of outdoor spaces. So it's no wonder that Almere and Lelystad are such fertile ground for business, housing and recreational developments.
Why live in Almere and Lelystad?
- Spacious, modern housing
The area has a modern architectural aesthetic and residential areas are spacious, thoughtfully planned around schools, parks and shopping areas. Typically, houses here have more space than in Amsterdam, which is easily accessible by public transport or car.
- The opportunity to build your dream home
A clear advantage that the area has over major cities is the space available to design and build new homes. This gives residents the freedom to design a home exactly to their individual needs, put their own stamp on the property and contribute to the area's modern architectural aesthetic.
- Family-friendly neighbourhoods
The area's small, safe neighbourhoods are well suited to young families. Houses are spacious with gardens, off-street parking and located near parks, playgrounds and lakes. Kids tend to cycle on their own. There is a good selection of schools including international options in Almere, which are also accessible from Lelystad.
- Excellent transport connections
Travelling to Amsterdam by train is fast and convenient – just 20 minutes from Almere or 35 minutes from Lelystad. Almere has six train stations providing access to many Dutch cities and a direct train connection to Amsterdam Airport Schiphol, while Lelystad is connected on the same trainline. There are also excellent bus links with Amsterdam's business districts. Direct and safe cycle lanes make it easy to travel around the area or even between cities thanks to the growing popularity of e-bikes. For drivers, many houses have off-street car parking and there are good motorway links with other cities. Lelystad Airport will soon host international flights.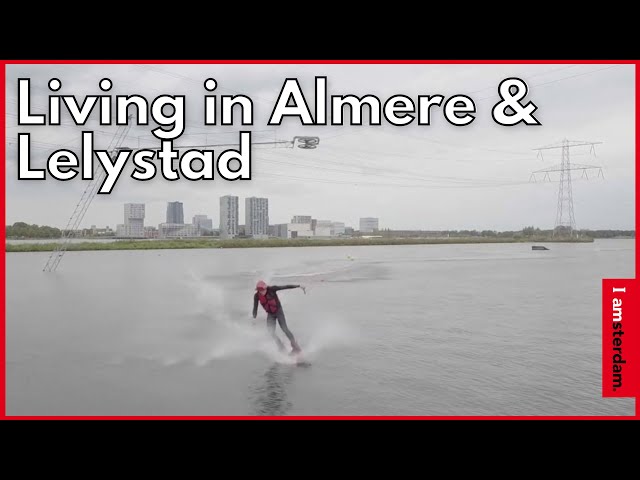 Almere is also home to two Universities of Applied Sciences, 17 secondary schools and almost 100 primary schools. The city has public schools as well as schools that provide lessons based on a particular pedagogical vision or religious conviction. Examples of the former are the Dalton, Montessori or Jena-plan educational systems. There are also schools based on Catholic, Reformed, Protestant, Ecumenical and Islamic principles, along with schools that offer a high standard of special needs education.
Almere and Lelystad have a diverse population and active international community groups, such as International Almere: the biggest expat community in the area. They provide information and guidance and have an active online community of more than 1,250 internationals. They also organise social events and activities to bring the community together. Another group, the Expat Society Almere, is a not-for-profit networking community for international professionals and academics who live and/or work in Almere and the region. They organise several events throughout the year on various topics.
Great cafés, restaurants and shops can be found around the area, particularly in areas such as the lakeside Almere Poort and Batavia Stad shopping outlet in Lelystad, where big name international brands sell their past-season and end of line collections at bargain prices.
IN Amsterdam's one-stop-shop registration is available for international newcomers in the city of Almere.
On work days between 8:30 and 17:00 (Friday 8:30 to 13:00), you can reach the City of Almere by calling 020 14 036. If you are calling from abroad, you call 00 31 36 539 99 11.