Choosing the best place to live
Use the Mapitout tool to find out which part of the Amsterdam Area suits you best and to plan your daily routine before you move.
Find international schools around the region
If you're making the move to the Amsterdam Area with children, the good news is that the standard of Dutch and international education available throughout the region is excellent. In recent years, a cluster of new international schools have opened in the Amstelveen and Hilversum areas in response to high demand for enrolments. To select a school that you can reach within your preferred travelling time, and using whichever mode of transport you like, use the 'points of interest' feature on the Mapitout tool to display primary or secondary schools, and all schools, or 'international only' for non-Dutch speaking students.
Discover the variety of housing
Throughout the Amsterdam Area, you'll find housing that varies from modern beachside apartments to historic farmhouses, and everything in between. Almere and Lelystad, the youngest cities in the Netherlands, are known for their ultra-modern architecture and forward-thinking urban planning. This area is also seeing an influx of new housing developments, perfect for residents looking for a newly constructed home. At the opposite end of the spectrum, traditional Dutch towns and cities offer family homes that are steeped in history – consider the likes of Alkmaar, Bergen and Hoorn or the Zaanstreek and Waterland. To explore these areas, and their distance from your workplace and nearby schools, enter any address in the Mapitout tool. You might be surprised to learn about the varied selection of housing options that fit within your ideal travelling time. For more information, check the brochure on living in the Amsterdam Area.
Enjoy a breath of fresh air
In the Amsterdam Area, no matter if you live in the heart of the city or out in suburbia, open spaces and delightful recreation areas are never far away. For example, the Amsterdamse Bos (Amsterdam Forest) is an expansive nature area adjoining Amsterdam and Amstelveen. It's the perfect escape for long walks, cycling, sports or family trips to its petting zoo, yet it can be easily reached by bike or public transport. Another enticing option is the wildness of the North Sea Coast, with its expansive beaches, windblown dunes and national park trails. These attractions are easily accessible from cities like Amsterdam, Haarlem, Zaandam and Hoofddorp, but if you prefer to live nearer to nature, use the Mapitout tool to click on towns like Bloemendaal, IJmuiden, Zandvoort, and Uitgeest to discover just how close they are to the region's business districts and schools by public transport and car.
Enjoy easy access to entertainment and events
If culture is your driving force, you can't underestimate the wealth of offerings in Amsterdam and Haarlem. With a multitude of museums on the doorstep, you can casually stop off in the Dutch 17th-century via a trip to the Rijksmuseum in the heart of Amsterdam or the Frans Hals Museum in Haarlem. Likewise, for music and the performing arts, the centres of Amsterdam and Haarlem are home to renowned concert venues and theatres, where you can experience top international talents. What's more, if you're worried about getting home at night after taking in a show, both cities have excellent public transport connections with the rest of the region. In the Mapitout tool, try clicking on the centre of Haarlem or on Leidseplein in Amsterdam, then set your ideal public transport travel time.
Locate close to a major public transport hub
For many cities around the world, living close to an international airport requires you to be further from central business districts and recreation facilities. That's certainly not the case in the Amsterdam Area, where Schiphol Airport is situated very close to Amsterdam, Amstelveen, Hoofddorp and Haarlem. A public transport trip of 15 minutes or less connects the airport with a wide variety of businesses and residential districts in the region. An excellent bus network also affords easy access to the towns and cities around Haarlemmermeer, and the Noord-Holland cities of Aalsmeer and Uithoorn, which are situated south of Amsterdam.
Not only is the region's excellent train network dutifully supported by bus, tram and metro services, but there's a growing number of car share, bike rental and taxi services to enable a sustainable door-to-door approach to public transport trips. That is also encapsulated by the Mapitout tool, which lets you combine public transport and cycling to offer a realistic visualisation of what is truly accessible from any location in your chosen time frame.
Start your journey to the Amsterdam Area
There's a lot to learn about the various parts of the Amsterdam Area but the Mapitout tool is a fantastic starting point. Explore different areas, determine what's most important to you, look up the various amenities and schools, and gather tangible information that will empower your future decisions.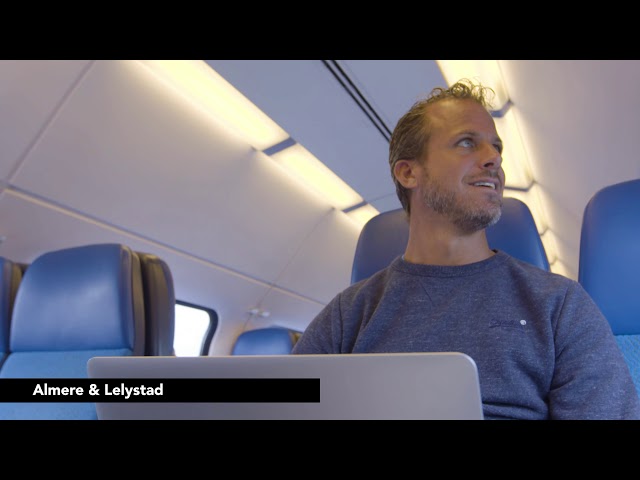 Discover the Amsterdam Area with our interactive map
Explore all the region has to offer with our interactive map. Hover on an area to learn about the regional highlights and what it's like to live there.