Living in Haarlem and Heemstede
Haarlem is one of the Netherlands' most beautiful old cities, offering a wealth of historic buildings and sights and a lively community of 150,000 residents. Although it's the second-largest city in the Amsterdam Metropolitan Area, the capital of the province of Noord-Holland and has a real cosmopolitan feel about it, it is still a comfortably-sized city.
Beautiful historic city centre
Often likened to a miniature version of Amsterdam, Haarlem has a similarly picturesque old-world charm, with cobbled streets, winding waterways and gabled houses. Though rich with historic architecture, it's a lively city packed with culture, nightlife, dining hotspots and some of the best shopping streets in the country. All that vivid history inspires plenty of entrepreneurial vision too, with young digital businesses and agencies gravitating to Haarlem, while rejuvenation is a key characteristic (just look at the Jopenkerk, a former church in the centre, transformed into a thriving brewery, café and restaurant).
Residential areas in this compact city are well-connected to the centre, so travelling distances are at a minimum (just a short bike ride). The city is directly across from the North Sea beaches (easily reachable by bike) and the centre of Amsterdam is a mere 15-minute train journey away.
Why live in Haarlem or Heemstede?
- Best of both worlds, between beach and city
A prime location for residents who want it all, Haarlem is close to the vibrant centre of Amsterdam as well as the beach and countryside.
- Beautiful historic city centre
Haarlem mirrors much of what Amsterdam has to offer, but on a smaller scale. With striking architecture that inspired 17th-century painters, and a cosy, village-like atmosphere, the city truly encapsulates the meaning of the Dutch word gezellig.
- Excellent shopping and restaurants
The elegant city centre is regarded as the shopping capital of the Netherlands, offering international designer fashion, chain stores, independent boutiques and stylish interior stores. The dining culture is also incredibly strong. There's a broad selection of restaurants and cafés with new establishments opening all the time, spurred on by the city's entrepreneurial spirit.
- Culture and creativity thrive
Explore artistic and scientific discoveries at the Teylers Museum, 17th-century masterpieces at the Frans Hals Museum and lose yourself in top quality culture at other monumental theatres, concert halls and galleries.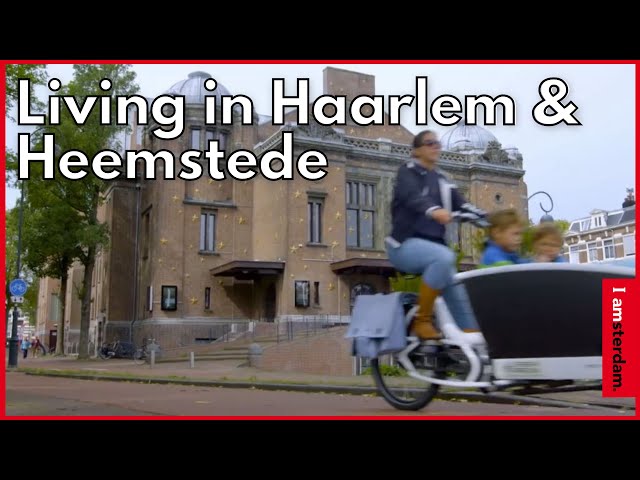 International School Haarlem is close by. It's a partially-subsidised school which offers primary education and will host a secondary extension from 2018. The area is also within easy reach of the schools in Amsterdam, Amstelveen and Haarlemmermeer.
Haarlem's large international community has many well-established groups such as expatsHaarlem, an English-speaking social and business network that provides support services for international newcomers and hosts frequent community events. A year-round programme of events creates a sense of community, such as weekly markets at the Botermarkt, the Haarlem Jazz & More festival, culinary fairs and Christmas markets. And don't forget about the many museums, theatres, concert venues and cinemas. For food and drink, Haarlem's extensive selection of bars and restaurants keep ahead of international food trends and have English menus and English-speaking staff.
IN Amsterdam's one-stop-shop registration is available for international newcomers in the municipality of Haarlem.
Municipal departments and services in Haarlem can be contacted by calling 14 023 from Monday to Friday from 8.30 am to 4.30 pm, from abroad you call 00 31 23 511 5115. You can also contact the City of Haarlem by WhatsApp on the number 06 1436 9614. The municipality can answer questions that are asked via WhatsApp from Monday to Friday from 8.30 am to 4.30 pm within one hour.