About IN Amsterdam
IN Amsterdam offers a simplified process for registration, residence permits and BSN for international newcomers and companies looking to hire highly skilled migrants. Its services include a Partnership Programme, which connects international newcomers with local expat-related service providers in the Amsterdam Area.
IN Amsterdam provides a one-stop-shop service for international companies and their highly skilled migrant employees. All companies based in the municipalities of Amsterdam, Amstelveen, Almere, Diemen, Haarlem, Hilversum, Haarlemmermeer and Velsen who are official sponsors or recognised partners of the Netherlands' Immigration and Naturalisation Service (IND) can make use of IN Amsterdam's streamlined procedures.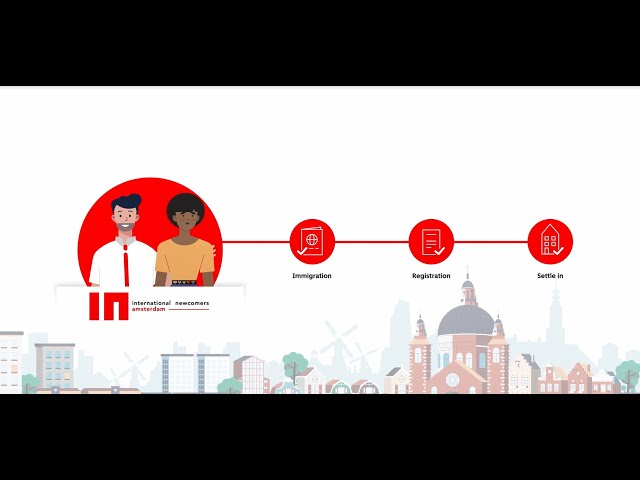 Via the IN Amsterdam procedure, employers can initiate the registration for a residence permit prior to their new employee's arrival in the country. This allows highly skilled migrants (and their family members) to complete several important formalities in a single visit to the IN Amsterdam office after arrival. IN Amsterdam also provides other services such as applications for the 30% ruling and assists international newcomers directly.
Expats living in Amsterdam can visit IN Amsterdam for expert advice, information and resources in addition to the wealth of information available throughout the Living section of this website.
IN Amsterdam hosts events, too, including regular seminars led by experts, covering topics such as employment, taxes and education. There is information available on renting and owning property, as well as healthcare, schooling, housing, finding work and more. IN Amsterdam is also committed to helping protect international residents against workplace discrimination and exploitation.
Our Partnership Programme
The IN Amsterdam Partnership Programme connects international residents with a reliable network of expat-related or international-focused service providers in the Amsterdam Area and provides a full list of IN Amsterdam's trusted partners.
IN Amsterdam is a joint initiative of the cities of Amsterdam, Amstelveen, Almere, Diemen, Haarlem, Hilversum, Haarlemmermeer and Velsen, along with the Immigration and Naturalisation Service (IND) and the Dutch Tax Office.
Visit or contact IN Amsterdam
World Trade Center Amsterdam
I-Tower, ground floor (entrance via Zuidplein)
Strawinskylaan 1767
1077 XX Amsterdam
Email: welcome@amsterdam.nl
Telephone +31 (0)20 254 7999
Please note: On 8 May 2017, Expatcenter Amsterdam became known as IN Amsterdam (International Newcomers Amsterdam).