Living in Alkmaar, Bergen and Hoorn
The area at the north of the province of Noord-Holland offers a relaxed coastal lifestyle with expansive polder landscapes and historical Dutch villages. Positioned between the North Sea Coast, the Wadden Sea (a UNESCO World Heritage site) and the IJsselmeer lake, the area includes the cities Alkmaar, Den Helder and Hoorn.
Coastal, rural and lakeside living
This region north of Amsterdam is renowned for its traditional feel – down to earth, hardworking and straight talking – but it's not stuck in its ways either. With cutting-edge examples like the innovative businesses flocking to Seed Valley, the European Commission's Joint Research Centre, and the development of Microsoft's data centre, the area is making a significant contribution to solving global challenges. Its ambition is to continue to develop this strength. As such, scenic polders and historical towns go hand in hand with the ever-developing digital economy.
Why live in Alkmaar, Bergen or Hoorn?
- Availability of international education
Non-Dutch speaking children can attend the European School Bergen: a large bilingual school that teaches the European Baccalaureate programme and has capacity for 500 primary and secondary students.
- Developing business opportunities
Large commercial developments such as Seed Valley, the €2 billion Microsoft data centre and ECN part of TNO (an energy research centre near Schagen) signal a move towards more sustainable, digital and forward-looking economic opportunities in the area.
- Traditional Dutch villages
Alkmaar, Bergen and Hoorn are modern Dutch cities with centuries-old hearts. A walk through their centres can feel like a trip back to the Dutch 17th century, when they first began to thrive. The surrounding traditional villages are filled with just as much history and beauty, and the view from your window or garden is often that of green fields, trees, little waterways and maybe even old windmills.
- Coastal, rural and lakeside living
Residents enjoy a relaxed lifestyle near the North Sea Coast and the IJsselmeer lake. The spacious agricultural areas and polder landscapes provide a tranquil atmosphere, often within 30 minutes of cities like Amsterdam and Haarlem (by road or rail).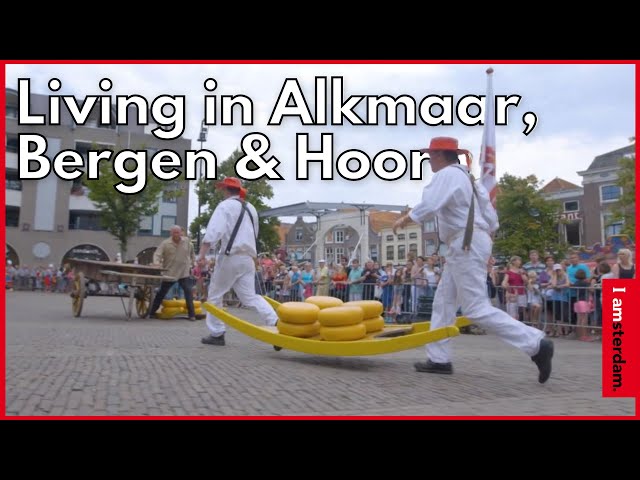 The European School Bergen (ages 4 to 18) offers the European Baccalaureate programme and is a school originally developed for families of official EU employees. It's open to all nationalities, including Dutch pupils.
More and more internationals are choosing to live in the area north of Amsterdam, as internationally-oriented companies seek talent. This has meant that social and networking groups are forming and expanding all the time. Increasing numbers of international visitors are also heading to attractions such as Alkmaar's cheese market, the beaches at Texel and UNESCO World Heritage site De Beemster. Local residents can also enjoy the lively centres of Alkmaar and Hoorn for shopping, dining and socialising.