Living in Amsterdam, Amstelveen and Diemen
Amsterdam, Amstelveen and Diemen enjoy a prime location at the centre of the Amsterdam Area.
A close connection to central Amsterdam
Residents of this area enjoy the best of both worlds, with a variety of housing options and peaceful residential areas, while all the benefits of living and working in Amsterdam's city centre are within reach. Thanks to growing numbers of residents from abroad and a high standard of international education, the area has developed a diverse international community. Housing in Amstelveen and Diemen is more accessible than in neighbouring Amsterdam, with options ranging from roomy apartments to single-family homes with ample outdoor space. Of course, buying or renting in Amsterdam itself remains an option – the market is currently 'hot', meaning prices are higher and availability changes quickly.
Why live in Amsterdam, Amstelveen or Diemen?
- Feel part of an active international community
Easily connect with Amsterdam's international community by making use of organisations like IN Amsterdam, the Amsterdam Culture Club, ACCESS and a diverse selection of expat organisations. International community groups are also present in Amstelveen, including family groups, sports clubs and a large Japanese and Indian community.
- Make the most of Amsterdam's culture, nightlife and opportunities
Residents can take advantage of a short trip by bicycle, bus or train and enjoy Amsterdam's rich cultural life and business opportunities.
- Great variety of international schools
The Amstelveen, Ouder-Amstel and Diemen area and surroundings offer a host of options for international schooling, covering a wide spectrum of learning, languages and cultures. The small, safe neighbourhoods make it a popular area for families.
- Excellent transport connections (local and international)
Amstelveen is very well connected, both locally – to Amsterdam and other parts of the region – and internationally, by its proximity to Amsterdam Airport Schiphol and the railways.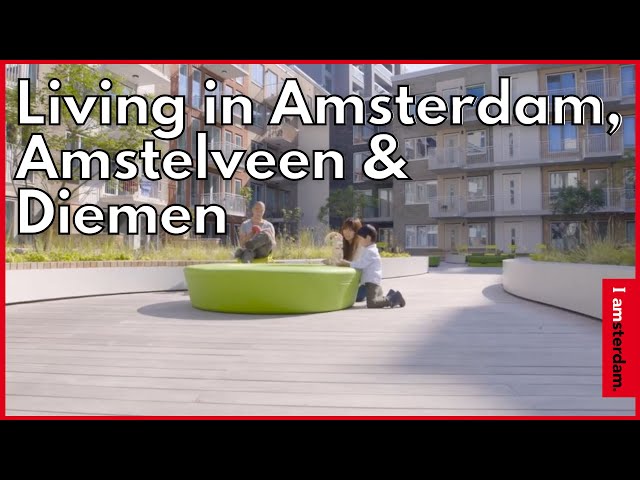 - The International School of Amsterdam (ages 2 to 18) is an IB World school in Amstelveen offering the full IB programme and an extensive extra-curricular schedule.
- Florencius International School in Amstelveen (ages 2 to 12) offers the IP curriculum and focuses on holistic education via the 4Q's or 'four intelligences' approach: spiritual (i.e. integrity and self-worth), mental, emotional and physical intelligence.
- Amity International School Amsterdam (ages: 2 to 10, and 11 to 17 from 2018/2019), located in Amstelveen, is a non-profit school and offers the Primary Years Programme (PYP), with the intention of eventually offering MYP and IB programmes.
There is a wealth of expat groups, international family groups and sports clubs in Amsterdam and Amstelveen is also growing in popularity among internationals. There are several expat groups such as Bridging the Gap Foundation (an Indian community group), the Japan Women's Club, and organisations particularly aimed at families.
The Netherlands' largest Japanese community is based in Amstelveen, with Japanese schools, an active business network, Japanese-speaking health services and a dedicated expat desk. Another thriving international community in Amstelveen stems from India. More than 5,000 Indian citizens have made themselves at home here, reflected in the restaurant scene, cultural festivals and sports. Amstelveen's city centre is beginning to rival Amsterdam for its selection of shops and cafés and is much less crowded on weekends. Amsterdam Airport Schiphol is close by – a benefit for frequent travellers and families that regularly visit from overseas.
For international university students studying in Amsterdam, Campus Uilenstede in Amstelveen is the largest student campus in northern Europe and provides exceptional facilities. Diemen has a growing international student community thanks to Inholland University of Applied Sciences, the proximity of Amsterdam's universities and student accommodation complex OurDomain.
IN Amsterdam's one-stop-shop registration is available for international newcomers in the cities of Amsterdam, Amstelveen and Diemen.
Municipality of Amstelveen
Contact Gemeente Amstelveen for parking permits, marriage, birth or death certificates and general information.
Address: Laan Nieuwer-Amstel 1