Unrobe makes clothes with zero environmental impact
Amsterdam's Unrobe is on a mission to undress the fashion industry by dressing people, putting sustainability at the core of everything it does to try and show that you don't have to pollute the planet to produce garments.
Undressing the fashion industry
Usually, businesses are born in the dreams of those that dare to set out on their own and start a company. But for Amsterdam's Unrobe, the determination to do something different wasn't conceived in blue-sky thinking, but in the soot and sawdust of factories where workers were being extorted and the Earth was being abused.
"I have seen dye houses which are mixing chemicals without any protection for the workers, I have seen factories with no safety measures and [people] working very long days for low wages. After seeing that, I thought something needed to change." Unrobe founder Daan Ubachs explains how the company came to be.
For Unrobe, that change means doing things differently, or, as they put it, "undressing the fashion industry". This requires putting sustainability at the heart of everything they do, including using only organic cotton and recycled nylons, producing goods in premium factories and being completely transparent in their production process and pricing.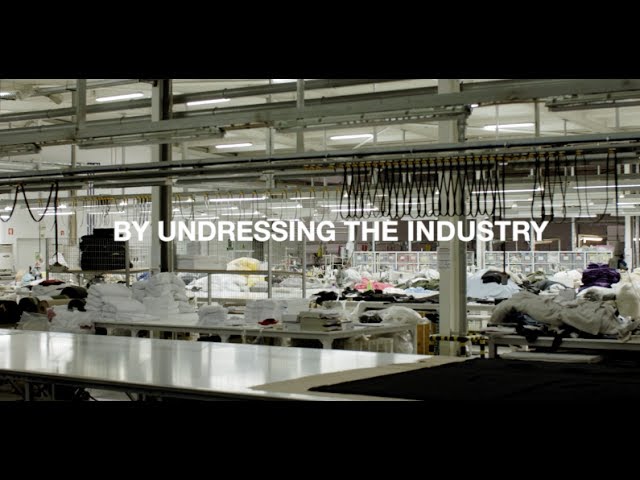 Why social responsibility comes first 
"Our factories have a social responsibility program which includes overtime pay, maximum overtime hours and other initiatives. Each item of our clothing also has a QR code that gives the customer information about pricing, the factory where it was made and who made it. There is a nice atmosphere in our factories, and I see the same people staying in their jobs, which I think is important, as it means they are still happy there. And the wages are according to the market."
Unrobe was founded by Ubachs in August 2017, when he had already worked in the fashion industry for more than a decade. "I was buying in India, China, Indonesia and around the Far East. I have [seen] lots of good things, but also a lot of bad things. When you're working in the industry over there you can't avoid it."
During a stint in Indonesia, Ubachs' fascination with sustainable manufacturing started to really develop. "I worked with a completely circular eco-laundry, so that piqued my interest."
Leading the industry in new habits
After returning to the Netherlands, Ubachs raised the €17,000 needed to launch Unrobe via a Kickstarter campaign. To help reach their target, they staged an eye-catching marketing stunt at Amsterdam Fashion Week.
"We want to liberate the industry from its bad habits, so we wrote all examples of those, such as pollution and waste, on t-shirts and got a model to strip off each layer. That generated a bit of buzz about the brand."
With the funding secured, Unrobe released their first collection, managing to charge much less than traditional brands' sustainably manufactured garments by cutting out the''middle man' which includes shopkeepers, agents and importers. Ubachs says, "That allows us to charge around 50% less than traditional brands on average, and the customer can clearly see the cost of our materials, making, shipping, etc."
Collaborating with companies around Amsterdam
Unrobe has now released four collections and has developed merchandise collaborations with several festivals and companies around Amsterdam, including Heineken, Dopper, DGTL Festival and Amsterdam Open Air Festival.
"We see collaboration as really important to our business model," Ubachs explains. "And the nice thing is when companies want to be greener and more sustainable, they reach out to us." Unrobe have also regularly returned to Amsterdam city centre's Haarlemmerdijk to host a pop-up store.
A hub for sustainable fashion initiatives and brands
Ubachs sees Amsterdam as a great hub for developing a sustainable fashion brand, due to its density of pioneering businesses and initiatives that help make the industry greener. "Amsterdam is a conscious city that is developing rapidly. We have a lot of brands that are sustainable here. We have Denim City in De Hallen, as well as Amsterdam Fashion Week and Sustainable Fashion Week. Festivals are also becoming much more conscious about sustainability, so there's lots of different initiatives and schemes that are leading the way when it comes to becoming greener and helping the planet."
Unrobe is now looking for investments to develop the brand, and Ubachs is already planning his next marketing campaign to spread its message further. "People are being [taught] to buy regularly, the quality is going down and people don't have respect for garments. That needs to change. Everything has to start with the customer, but we need to lead them a bit and help guide them."
Looking back, he says he wouldn't change a thing. "If I knew I would be doing what I am doing now 10 years ago, I would think that dreams can come true, but you have to work hard for it." Unrobe's story shows that even dreams born under the worst circumstances can help pave the way to making the world a better place.