How to use the City Card
Learn everything you need to know about how to use the I amsterdam City Card, whether to choose a digital or a physical card, how to gain access to attractions and public transport, how to book timeslots and find out what is included in the card.
When you order the City Card, choose the desired card duration: 24, 48, 72, 96, or 120 hours. The countdown for the City Card only starts after the card's activation, which means you can buy your card in advance for your future trip. The City Card is valid for a year from purchase.
The I amsterdam City Card is available in two formats: a physical & digital City Card.
How to use the physical City Card
Order your physical City Card online or buy it in our I amsterdam Store or one of the reseller locations in Amsterdam directly.
Visit the I amsterdam Store at Amsterdam Central Station to collect your card.
Show the confirmation voucher on your phone or bring a printed copy. This is the voucher that you receive in your email after purchase.
Your City Card is now ready to use!
Important to know about the physical City Card: 
The City Card does not activate until you visit your first attraction or museum, or check into the public transport.
How to use the digital City Card
Digital City Card orders do not have to be picked up in person and can be used directly on your smartphone through the I amsterdam City Card app.
Download the I amsterdam City Card app.
Follow the app instructions to add your City Card to your account after purchase.
Activate your City Card in the app only when you are in Amsterdam and ready to start exploring. 
Your City Card is now ready to use!
Important things to know about the digital City Card
The I amsterdam digital City Card can only be used through our app. You will not receive a physical card if you choose this option.
Don't forget to charge your smartphone as you won't be able to use the card if your phone is out of battery.
Through the app, you can transfer cards to your family members or friends and navigate the city through a map highlighting the best locations, exhibits and events. You can only transfer a card once.
What is included in the City Card
The I amsterdam City Card includes access to over 70 museums and top attractions in Amsterdam and the Amsterdam Metropolitan Area, including Zaanse Schans. Browse the full list of locations here or download the City Card booklet.
You will also gain access to:
Unlimited city-wide public transport by GVB metro, tram, bus, and ferry for the duration of your card
One free Amsterdam canal cruise by a participating canal cruise company of your choice
One free canal cruise in Haarlem and a Rederij Volendam Marken ferry ride
24h free bicycle rental
Discounts to museums, attractions, and restaurants
How to use the card on public transport
Tap the physical card to the check-in sensor at the entrance to the metro, bus, or tram. If you have a digital card, place the phone with the QR code open under the scanner. If this doesn't work, seek assistance from an employee.
Do not forget to check out in the same way on your exit.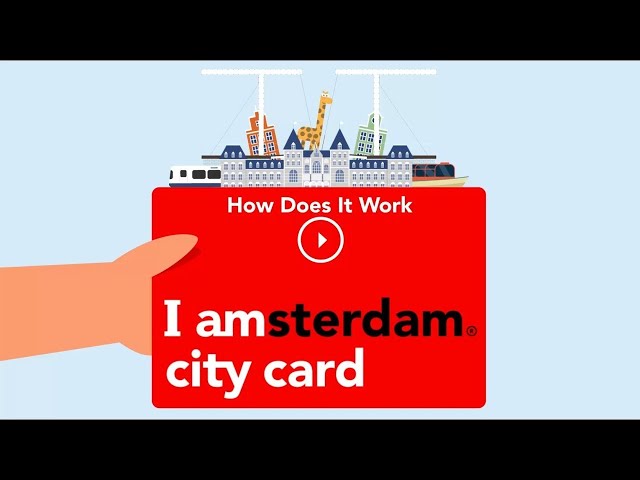 How to get access to included attractions and book timeslots
To gain entry to a location included in the City Card, simply show your City Card at the ticket office, whether it is a physical card or the digital card on your mobile phone. Make sure that your phone is sufficciently charged to ensure that you do not lose access to your digital City Card all day long.