How Cargill is reimagining the future of food
From cow feed to cocoa beans, there's not much in the food industry that US agro-industrial company Cargill doesn't have a hand in. With their European headquarters anchored in the Amsterdam Area, I Amsterdam caught up with Niels Boetje, President of Cargill Netherlands, about the future of the food industry and what success looks like so far.
Operating in the Amsterdam Area for over 50 years
The name Cargill may not be instantly recognisable, but their work touches upon almost every aspect of your everyday life. From sourcing the cocoa used in ice cream to developing the sustainable spandex that can be found in your workout gear, their business spans a wide range of industries involving the production, processing, and distribution of industrial food & agriculture products.
In the Netherlands, Cargill's business covers everything from starches and texturizers to animal nutrition, operating in 11 different locations across the country. The company has invested €1.8B in their Dutch operations since 2002. Their European headquarters, located just a stone's throw from Amsterdam Airport Schiphol, is a vibrant base for international employees from over 60 nationalities.
I amsterdam asked Niels Boetje, President of Cargill Netherlands, a few questions about the company's history in the Amsterdam Area and what we can look forward to in the future.
Cultivating success through connectivity and innovation
Cargill began their journey in the Amsterdam Area over 50 years ago when they opened their second overseas soy plant in the city in 1969. Thanks to the region's open business environment and geographic advantage as a gateway to the rest of Europe, Cargill continued to grow its presence in the area, eventually expanding to 11 locations throughout the Netherlands. Niels Boetje explains how the area has fuelled the company's success:
"Cargill has operated in Amsterdam for over 50 years, having opened our first soy plant in the city back in 1969. The area has helped fuel our success in Europe thanks to its proximity to the continent and its ports and waterways connecting us to the rest of the world."
Geography isn't the only reason for the company's continued investment in the Amsterdam Area. The region's status as an innovation hub and long history of agricultural productivity have play a key role in the advancement of Cargill's operations.
One example of this is the company's recent launch of the world's first zero-emission electric pusher tug and barge developed in collaboration with Kotug. This vessel will be used to transport cocoa beans arriving at the Port of Amsterdam to Cargill's cocoa factory in Zaandam, eliminating both emissions and noise pollution from this stage of the value chain.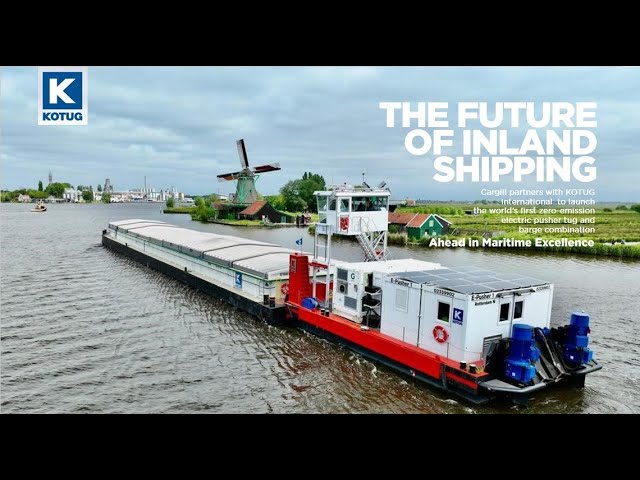 Today's challenges fuel tomorrow's solutions
Having been around for over 150 years, Cargill is no stranger to turbulent times. With global food suppliers grappling with a range of disruptions, from severe weather to geopolitical instability, meeting the needs of future generations won't be easy. As Innovation & Growth Lead, Niels Boetje sees advancements in agriculture as part of the solution:
"Meeting the needs of a growing population in a sustainable way is one of the biggest challenges that we will continue to face in the future. These are complex issues, but we have always viewed agriculture to be part of the solution to the world's most urgent challenges. Reimagining what is possible is core to what we do at Cargill."
How Cargill is investing in the future of food
Reimagining the future of food takes many forms for Cargill, ranging from integrating sustainable practices throughout their supply chain to investing in alternative protein sources.
With the recent European expansion of their award-winning regenerative agriculture programme, Cargill now offers financial support to farmers in Germany, Poland, Romania and France who are taking steps to improve soil quality and contribute to a climate-neutral supply chain. These farms will also be the first to supply Cargill with raw materials, helping further the company's own sustainability goals.
Niels Boetje sees the future of food being revolutionised by advancements in alternative protein, which will be a key part of feeding a growing population.
"We're currently investing in alternative proteins, which we see as an invaluable tool in helping to feed a growing population. R&D is a major focus for us as we look to close the gap between alternative and traditional protein sources when it comes to things like taste, texture, and flavour. With these advances, we believe these will soon be just another protein source for flexitarians and meat-eaters alike."
These investments include the likes of alternative protein startup Bflike, located Wageningen University's international innovation hub called Food Valley Netherlands. Bflike is dedicated to accelerating the food transition by offering development of plant-based meat and fish alternatives which pairs well with Cargill's extensive ingredient offerings.
The company also collaborates with Scottish food tech firm ENOUGH by helping them realise their flagship fermentation factory in the most sustainable way. The factory, which happens to be the largest fermented protein facility in the world, is co-located on Cargill's Sas van Gent site in the Netherlands. Thanks to its close proximity, Cargill is able to provide ENOUGH's facility with the most efficient feed source for its fermentation operation, furthering zero-waste efforts on both sides.
Giving back to the local community
Cargill's efforts to do good extend beyond their company walls and into local communities. As a long-time resident in the region, the company invests in supporting the knowledge, development, and vitality of the Amsterdam Area to help pave the way for a better future. According to Niels Boetje, this involvement is an important part of Cargill's investment in the region:
"Cargill invests in local communities through both financial contributions and our employees' time and commitment. Together, we can improve nutrition and education outcomes in the communities in which we live and work."
A few examples of their local impact include:
The Johan Cruyff Foundation supports and develops sports projects with a particular focus on providing a space for young people who may not have access to sports in their everyday lives, including children with living with special needs, in low-income areas, and social sports programs.
The Giving Back Foundation helps university students in the Netherlands strengthen their personal and professional development through building business contacts, with a special focus on those who are the first generation in their family to go to a school.
FoodSee University is an interactive educational program developed by Cargill to teach children about agriculture and the food industry during a trip to the Global Cargill Animal Nutrition Innovation Center in Velddriel, the Netherlands. The program gives students the opportunity to experience how livestock is kept, as well as the importance of animal nutrition and sustainable agricultural practices.
Looking towards the future in the Amsterdam Area
By prioritising research into advancement of alternative protein and establishing sustainable global practices and supply chains, Cargill is evolving to meet the needs of a changing world. Their presence in the Amsterdam Area is strengthened by the region's reputation for agricultural ingenuity and a consumer market that embraces plant-based products.
As a European innovation leader and early adopter of the circular economy model, the Amsterdam Area is a great place for international companies to cultivate future-focused ambitions within a growing sustainable infrastructure. With a high concentration of academic and research institutions, collaborative environment, and thriving tech sector, the region is a hub for developing cutting-edge solutions that aim to tackle tomorrow's challenges.