Picnic: next-level supermarket
Online supermarket Picnic is revolutionising the online food shopping sector in the Netherlands and beyond. We sat down with CTO Daniel Gebler to discuss the secrets behind the company's success.
A new way to shop for groceries 
Parking his electric van outside a house in Amersfoort, Daniel Gebler grabs his grocery delivery and rings the doorbell at number 4. Daniel's trusty application—developed in-house—notifies him that a free apple pie has been added to this customer's delivery to mark their 100th order. The customer answers the door and Daniel shares the good news with a smile and friendly chat. With that, he's off to his next destination. What the customer doesn't know is that the man who just delivered their shopping is actually the Chief Technical Officer (CTO) of the app-only supermarket Picnic, and one of the architects of a company that is revolutionising online grocery shopping and technology in the Netherlands and beyond.
But what drives a CTO to spend time making delivery runs for the company he helped develop into one of Europe's fastest-growing online supermarkets? He sits down with us in the company's Amsterdam headquarters to explain: "Every now and then we feel it's important to get out of the office and spend some time out in the field; we want to feel what the customer is feeling and see how our teams are doing."
Spotting a gap in the market
Picnic's passion to foster healthy relationships between customers, partners and employees, can be seen from the moment you step into the recently expanded HQ. On the ground floor, we grab a coffee—made by Picnic's very own barista—at the Picnic bar. We're surrounded by the hustle and bustle of Picnic employees, an international group of people chatting over coffee and food. Upstairs, staff regularly pass by to 'island hop', visiting other teams' desks to ask for feedback and share achievements.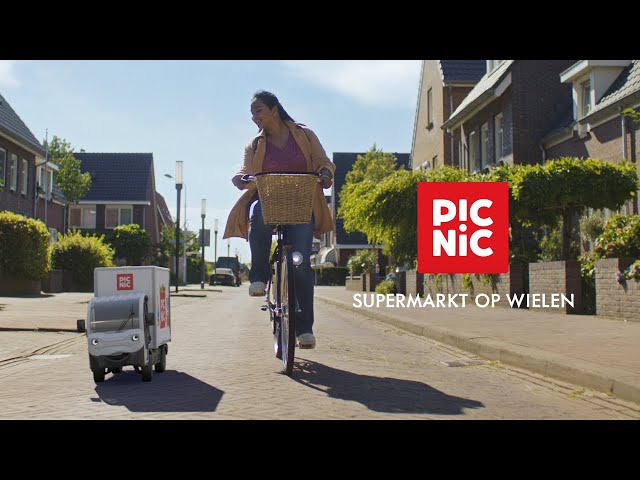 It's here, on the top floor, that German-born Gebler holds court, explaining how, after moving to Amsterdam to undertake his PhD at Amsterdam's CWI, he became part of a team of 30 engineers who developed Picnic from scratch. The idea started when the firm's founders saw the growth of online shopping for clothes, electronics and other goods, and realised that no one was doing the same for food. "When we started, only 1.5% of the market was buying food online, and people kept saying that food doesn't work online. Instead, we saw 98.5% worth of opportunity. This switch of mindset is the most important thing. We wanted to build a new category and market, and this is what keeps us busy day and night."
The secret to Picnic's success
The theory is simple: customers use an app to order their goods and choose a delivery time. After they have ordered, the items are packed by a 'shopper' in one of Picnic's distribution centres, then delivered by a 'runner' at the designated time. Because Picnic doesn't have stores, the company is able to deliver fresher and cheaper products than traditional supermarkets. The deliveries are always free, the vehicles are 100% electric, and the friendly runners aim to bring back the milkman-style service from days gone by. Picnic attributes its rapid growth to being more than a grocery delivery company. Since launching in Amersfoort in 2015, the foundation of Picnic's success has been its innovative technology, which is almost always developed in-house. Developing so much within the company has its challenges to be sure, but it affords Picnic a level of control and freedom that wouldn't be possible if it was to outsource these responsibilities.
Picnic uses technology to create a more personalised and efficient service for its customers, as with Gebler's 'apple pie' notification. This is why the company invests so much time and effort into finding and hiring the top tech talent from across the world.
Securing new investment, entering new markets, and innovating
After raising €600 million in September 2021 in a Series D financing round led by The Bill & Melinda Gates Foundation, Picnic's meteoric growth shows no signs of slowing. With customers in 200 cities across the Netherlands, Germany, and France, the investment will help fuel the company's growth even further. After being recognised by LinkedIn as the number one startup in the Netherlands in both 2020 and 2021, Picnic is firmly in scale-up mode with recruitment activities to match.
Talking about his industry, Gebler says that the automation of warehouses is one of the biggest changes currently taking place, which helps to make the order collection and picking operation much more efficient. Picnic has also been recognised for its work in this sphere: the software development involved in the company's first automated fulfilment centre was recognised as The Most Innovative Use of Java 2021 by the Dutch Java User Group.
Dedicated to sustainability
Picnic's dedication to sustainability and the circular economy is demonstrated in its reassessment of what packaging is needed when delivering food to customers. "If you take cornflakes, for example, you get a huge box, but half of what you buy is air. That's because if it's on a shelf it needs to be attractive and needs to be transported easily. If you do the picking in a warehouse you don't need this extra packaging, and so you can make it much more efficient, much more sustainable, and better for the customer."
Another green initiative that Picnic has introduced is adding solar panels to their fulfilment centres to help power the company's hundreds of electric vehicles, as well as using a smart grid to route excess power back into the grid to help conserve waste. "We want to revolutionise and reinvent the food supply chain, from the producer to the consumer, and we want to be as sustainable as possible doing it."
Growing with current customers in mind
As much as Picnic relies on its distribution model and technology to keep costs down and profits up, its most important relationship is the one that it has with its customers. This means that it doesn't just look for your average delivery person—it's after runners with a particular set of skills.
"We look beyond traditional delivery experience, and instead look for people who have come from a hospitality background. Those people have experience in an industry that knows how to serve and enjoys serving customers. That makes our business, and our customers appreciate it. Our focus is delivering perfect service to customers. Of course, we want to grow continuously, but we need to do so while continuing to provide our existing customers with the great service they've come to expect."
Whether stopping by with a delivery or planning the company's next move from their Amsterdam HQ, it seems that the customer is always on Picnic's mind.