WasteBuild Zero 2023: Uniting the Built Environment for Zero Carbon Construction
Gathering architects, specifiers and developers from across Europe, WasteBuild Zero 2023 convened sustainable construction experts in Amsterdam to tackle the climate emergency and spearhead a transition towards a regenerative built environment.
The zero-carbon construction movement 
Amsterdam, a city renowned for its forward-looking and creative spirit, hosted the premier event for zero-carbon construction, WasteBuild Zero 2023, from May 11-12. Showcasing the latest breakthroughs in low-carbon and circular construction, WasteBuild Zero gathered leading architects, engineers, designers and developers across Europe to accelerate the transition towards a circular built environment.
From cutting-edge building materials to revolutionary techniques, attendees were exposed to a wealth of ideas that challenged traditional construction norms and addressed the climate emergency. Tackling the urgent need to rethink waste in the construction industry, WasteBuild Zero delivered a comprehensive program in the heart of Amsterdam's architectural ecosystem, NDSM, with over 16 hours of conference content and a buzzing exhibition space housing more than 30 circular solutions.
Inspiring change for the future 
Lauded for its dynamic business infrastructure and political commitment to the energy transition, Amsterdam offers a prime setting for groundbreaking developments and innovative collaborations to come to life. WasteBuild Zero 2023 provided an unparalleled platform for the city's collective efforts to foster knowledge exchange, drive innovation, and accelerate the transition to a circular economy.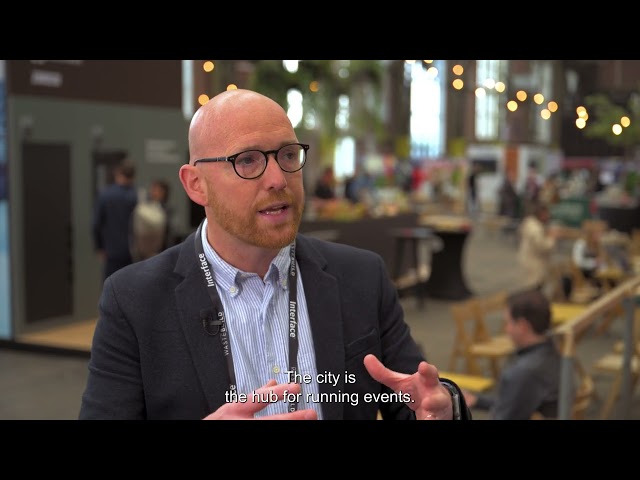 One of the reasons we're in Amsterdam is because of the leadership that Dutch architects and Dutch built environment is demonstrating when it comes to your circular economy roadmap. There are so many pilot schemes and so many projects here that you have here in Amsterdam.
Known for embracing progressive ideas, Amsterdam is recognised for adopting new technology to test circular economy models to transition to an emission-free city by 2030 and become fully circular by 2050. In fact, the city was the first to embrace the doughnut economy model to limit pressure on the planet and adopt transformative actions to reduce consumption, including a focus on the built environment.
Uniting the city's circular community 
The Amsterdam Convention Bureau, with Amsterdam Trade & Innovate, played a crucial role in supporting the mission of WasteBuild Zero. By fostering connections among like-minded professionals, the Amsterdam Convention Bureau enabled conference organisers to tap into the city's industry expertise and realise a strong joint effort within the city's renewable energy sector.
Whether leveraging an extensive network of local partners and stakeholders, sourcing the perfect event location or reaching out to potential speakers, ACB provides valuable resources to maximise conferences' impact and unite the city under a shared vision. As such, events like WasteBuild Zero 2023 can realise transformative ideas, collaborations, and solutions beyond the conference floor to inspire lasting change for a more resilient future.