Reclaiming the future of tech at The Next Web 2023
The Next Web (TNW) conference held its 17th annual edition in Amsterdam, gathering the international tech ecosystem to harness the power of technology for a more equitable and sustainable future for all.
Sparking hope in the new age of technology 
A preeminent event in the global tech calendar, The Next Web 2023 returned for its annual flagship conference in Amsterdam from June 15-16 to explore the latest insights in tech and inspire a more balanced and hopeful direction for the industry's future.
Hosted in one of Amsterdam's leading industrial heritage event sites, Taets Art and Event Park, TNW 2023 focused on the power of innovation, uniting tech experts and enthusiasts to explore how technology can be leveraged to drive social impact, address climate concerns and improve people's lives for the better.
Igniting a sense of excitement reminiscent of the early days of technological innovation, TNW 2023 unveiled a bold new theme: Reclaim the Future, packing a program full of thought-provoking conference content including talks on diversity and inclusion, accelerating climate action, responsible AI, and building future-ready cities.
TNW also emphasised environmentally friendly practices throughout the conference. Fostering a greener approach to event organisation including meatless catering options and reusable tableware, TNW 2023 partnered with The Food Line Up to provide locally-sourced, vegetarian dining options, and eliminate single-use plastics to drastically minimise the event's CO2 emissions.
Amsterdam's transformative tech landscape  
Amsterdam, an established hub for annual TNW conferences, is where tech enthusiasts, startups, and international talent gather to drive innovation and redefine the global tech landscape. With its advanced digital infrastructure and progressive policies, the city fosters an innovative spirit, enabling groundbreaking events like TNW to flourish and catalyse transformative change within the industry.
There's a real appetite from the city, the municipality, from the [Amsterdam] Convention Bureau to use these pillars to help support the growth of the next phase of Amsterdam.
Empowering conferences, for good   
With a commitment to harnessing the power of conferences for the greater good, the Amsterdam Convention Bureau played a crucial role in the success of TNW 2023 by providing invaluable support and services to optimise an impactful conference experience. TNW Events Director, Zach Butler, emphasised the close collaboration with ACB, highlighting their assistance with connections, city infrastructure, signage, transportation, and venue arrangements.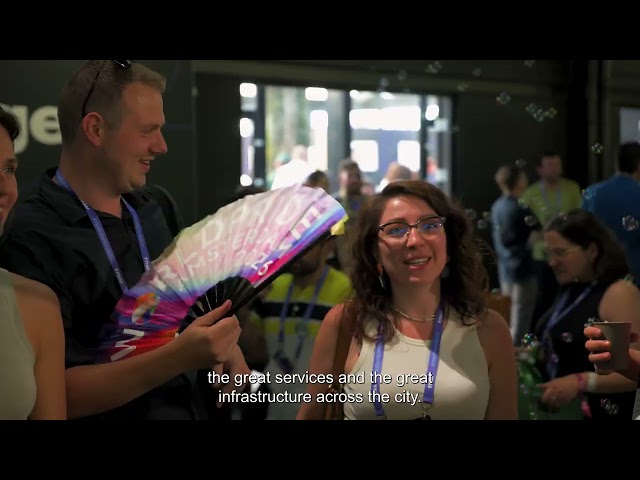 Through the support of the Amsterdam Convention Bureau and other city officials, TNW 2023 is able to realise its mission year after year and deliver unforgettable experiences in the heart of Europe's tech ecosystem. As the tech world continues to evolve, events like TNW showcase the possibilities that lie ahead and the shared importance of working to reclaim a more promising future.