World Summit AI 2021: global AI community returns to Amsterdam
The World Summit AI 2021 was one of the first major business events held in Amsterdam after restrictions on live events were lifted. Around 1,000 people attended the fifth anniversary event in-person, with thousands more joining online. 
The fifth World Summit AI was held in Amsterdam in October 2021, one of the first in-person events held in the city after more than a year of closures due to the pandemic. And, according to event organisers, it was a great success, connecting hundreds of AI experts and entrepreneurs and sparking inspiring conversations.
Hosted in the historic Beurs van Berlage in the centre of Amsterdam on 12-13 October, the summit was limited to 1,000 people, but many more watched a first-class production online.
The two-day line-up around the theme of 'AI with Impact', saw leading figures in the field host plenary sessions, curated table talks aiming to find solutions to current challenges, masterclasses and workshops to share knowledge and skills and 1-2-1 meetings powered by an AI matchmaking tool.
People making connections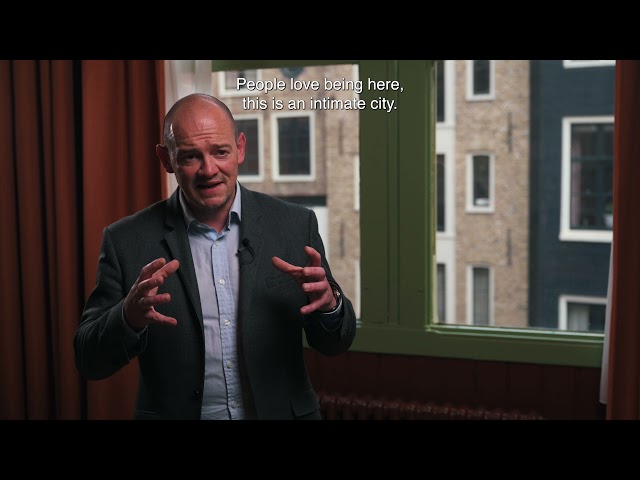 You could feel the energy and the energy that I measure is through noise. And throughout the event there is a noise that keeps rising and that noise of rising is people having conversations. And if people are having conversations, then we are doing our job because it means that people are making connections.
As one of Europe's leading AI hubs, and considered one of the world's most AI-ready cities, Amsterdam is the ideal location for the AI community to gather.
We've been in Amsterdam for five years. We've got deep-rooted relationships with the city. The city invests with us, both in terms of bringing attention to the sector and helping us engage with what we consider to be leading brands of AI. Amsterdam in a phrase is a no-brainer, it's a brilliant AI hub. It's a brilliant European city. It's connected. People love being here, this is an intimate city. But the most important part is, it is a collaborative city.
How Amsterdam Convention Bureau supported World Summit AI 2021
ACB put together a full package of marketing and welcoming materials to generate buzz around the World Summit AI. This included online marketing videos, MUPI outdoor advertising, a welcome video for delegates arriving at Amsterdam Airport Schiphol, city maps and giveaways. ACB also set up an Amsterdam information point at the event, so attendees could make the most of their visit.
Find out what the Amsterdam Convention Bureau can do for your event. Contact us at: meetings@iamsterdam.com or WhatsApp +31 (0) 682747079.