Plant Forward 2023 hosts first plant-based conference in Amsterdam
Mobilising over 700 food innovators in Amsterdam, Plant Forward 2023 hosted its first international conference edition designed to create a plant-forward future together.
The era of 'plantification'  
With a mission to accelerate the transition to 50% plant-based proteins by 2030, Plant Forward staged its first-ever annual conference at Theater Amsterdam on April 18. The one-day sold-out event drew international food and innovation executives, start- and scale-ups, investors, future leaders, policy- and other changemakers to meet, do business, share industry insights and work on collective solutions for a plant-forward future.
Characterised by lively venue halls, Plant Forward delivered a full conference program of 30+ speakers, nine breakout sessions, meet and greets, startup pitches and 1-on-1 matchmaking sessions. In addition, the "Supermarket of Desire" on the exhibition floor which allowed attendees to discover the latest plant-forward innovations and glimpse the future of the food ecosystem.
A hub for the sustainable food industry  
A global intersection for businesses and brands, Amsterdam is where entrepreneurs, investors, future talent, corporates, and the government collaborate to meet today's food system challenges. The city is a forerunner in the protein transition and home to numerous food industry pioneers leading the way towards more sustainable plant-based alternatives.
In fact, the city was recently ranked second-best in Europe for AgTech and food startups, while the Netherlands is the 6th largest plant-based market in Europe with the highest consumption of plant-based foods per capita. Demonstrating significant shifts to alternative protein products, Amsterdam is a leading hub for the sustainable food industry, steering future plans to encourage citizens to eat 50% plant-based by 2030. As forward-thinking events continue to evolve, they increasingly acknowledge the Amsterdam Area as the prime location to establish a strong presence within the city's thriving food ecosystem.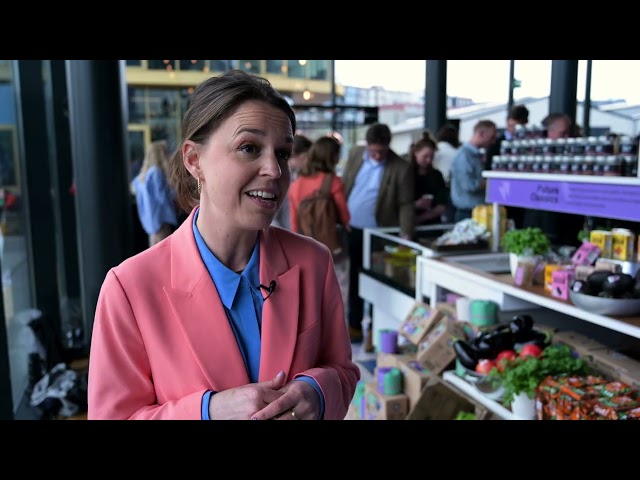 Amsterdam is a really openminded city. Internationally, other countries really look to Amsterdam to see what's happening on different areas, including food.
Setting the standard for greener meetings 
With great ambitions to bring balance back to our food consumption, Plant FWD underscored the importance of bold ideas and cross-company collaboration to create scalable solutions designed for a more sustainable future. To support this, the Amsterdam Convention Bureau worked directly with Plant FWD event founders to promote the first edition and discuss future plans to cultivate a strong trajectory for recurring annual editions.
Founder Marcel van der Heijden praised the city as the perfect platform to showcase these innovative practices thanks to its extensive event offering and concerted effort by Amsterdam Trade & Innovate and the Amsterdam Convention Bureau to help support the event since its inception. Focused on creativity and value-added service, the city teams up to provide business event professionals with the inspiration and support needed to execute successful events driven by innovation.