No Isolation is combating loneliness with tech
This Norwegian startup is on a mission to reduce involuntary loneliness and social isolation by developing communication tools to help those affected. After opening an office in Amsterdam, the firm is now working with the Dutch government and organisations in the Netherlands to help combat this global epidemic.
Loneliness is a global issue
Loneliness and involuntary social isolation are becoming major causes for depression, anxiety, stress and premature deaths. Loneliness is an issue that can affect everyone, regardless of age, class or education. In the Netherlands alone, more than 1.3 million people say that they often or always feel lonely. Founded in October 2015 and headquarted in Oslo, No Isolation is on a mission to end involuntary loneliness and social isolation.
A lack of social connections has a serious impact on our physical and mental health: 32% increased risk of having a stroke, 29% increased risk of heart disease and 26% increased risk of early mortality. Research shows that social isolation and loneliness strike the most vulnerable groups in society hardest: those over the age of 80 years as well as children and young adults with long-term illness. In Europe alone, more than 500,000 children with long-term illnesses are unable to attend school for extended periods of time due to feelings of loneliness and isolation. In turn, these absences have a variety of negative effects.
For No Isolation the mission is simple 
The company was launched after friends Karen Dolva, Marius Aabel and Matias Doyle noticed that, despite the vast array of communication methods available today (think Whatsapp, Skype and smart phones), these solutions are often difficult to use or unavailable for certain target groups who need them the most. Instead, they believed that technology should be created for those who can gain the greatest benefits from it.
With that in mind, the trio used their backgrounds in UX design, mechanical engineering and software programming to start creating their innovative technology. Today, they develop niche products that are just as sleek and functional for the end user as some of the best products available on the mass market.
Take the company's first product, the AV1 telepresence robot, which allows children and young adults suffering from long-term illness to be present in school even when they are not physically there. Users can choose to take part in school activities on their own terms depending on how they're feeling – they can choose to be passive listeners, answer questions simply by pressing a button, or put the AV1 in whisper mode so only the kids seated next to the AV1 can hear them.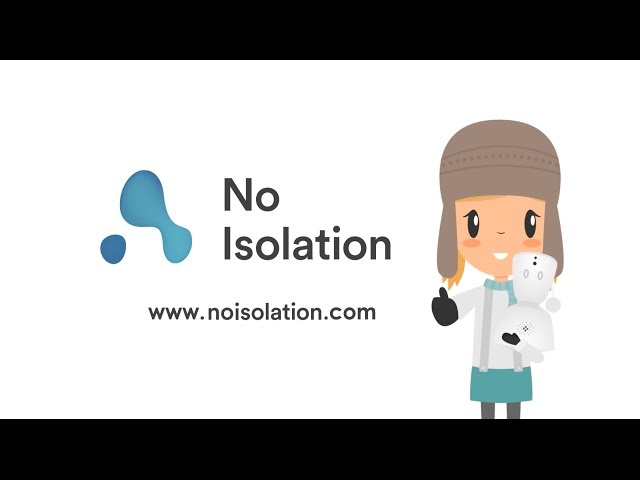 Research also shows that 126,000 aged 75 years or older in the Netherlands have contact with family and relatives once a month or less, so No Isolation developed its KOMP system to help simplify communication between all generations. The easy-to-use app allows digital-savvy children and grandchildren to share photos, messages and video call their grandparents.
Amsterdam is a hotbed for talent
While No Isolation's goal is to have offices all around the world, today they have more than 60 staff working across three offices in Oslo, Amsterdam and London. Cathrine Karlson, head of EU at No Isolation, says the company's decision to open its office on Overhoeksplein in Amsterdam Noord was a "logical step".
"The Netherlands has an international business environment with a longstanding tradition of being a hub for Europe, meaning we could come with our new products and start working on getting them out there," says Karlson. More than just a thriving business environment, Amsterdam is also a great place to live, adds Karlson, helping the firm attract talent from all over the world. Amsterdam also allows the company to test their solutions, get fast and concrete feedback to improve upon and prepare to scale into other European countries.
Collaboration, conversation and innovation
No Isolation is working hard to combat loneliness in the Netherlands, too. In Amsterdam alone, 11% of residents have admitted to feeling seriously lonely. National initiatives like Coalitie Erbij and Week tegen Eenzaamheid (Week against Loneliness) show that the Dutch are already working hard to combat loneliness through collaboration, conversation and innovation.
To date, No Isolation has sold five of their robots to the Municipality of Breda and built several partnerships with educational organisations that help children that drop out of school due to illness or other reasons. Through these organisations, more than 30 children have used the AV1 robot, helping them to stay connected with their classmates, follow classes in preparation for their final exams and help them transition back into the regular school programme.
The startup also works with corporations, organisations in healthcare and the government. One such partnership is with the Vodafone Foundation and Stichting Kind en Ziekenhuis, which has seen 20 AV1s be given to children with long-term illnesses. Meanwhile, the Radboud University Medical Center is using AV1s in its paediatric department to give children the opportunity to participate in their day-to-day life while being in the hospital.
With a continued effort to partner with Dutch organisations and institutions active in health innovation and social inclusion, as well as corporations with strong corporate social responsibility programmes, No Isolation is well on track to achieve their goal of ending involuntary loneliness and social isolation.