Invest in impact enterprises
Amsterdam Impact wants to ensure sufficient capital is available to impact enterprises at all stages of their business development. That's why we facilitate collaboration between impact investors and bring them closer together to impact entrepreneurs.
Although challenging, access to capital is no longer the biggest obstacle for impact entrepreneurs, as there is currently a wide range of impact investors based in Amsterdam and the Netherlands.
By working closely together, such investors can, for instance, exchange business cases that may not fit into their portfolios but are ideal for peers who fund entrepreneurs in other business growth phases.
To strengthen links between impact entrepreneurs and financiers and cooperation among impact investors, Amsterdam Impact nurtures real connections, knowledge sharing and close collaboration in our impact ecosystem.
Here are three of our capital-focused initiatives:
Co-financing Our Future: a peer-to-peer network for impact investors
Co-Financing Our Future (CoFoF) is an ecosystem that aims to provide financing for impact enterprises across the full spectrum of the business life cycle.
Its event series regularly brings together diverse impact-driven investors, including banks, foundations and venture capital firms, to discuss and share opportunities for collaboration and investment to accelerate an inclusive and sustainable future.
CoFoF is powered by Amsterdam Impact, ABN AMRO, and DOEN Participaties in collaboration with many more partners and sponsors. Learn more about CoFoF by watching the video below.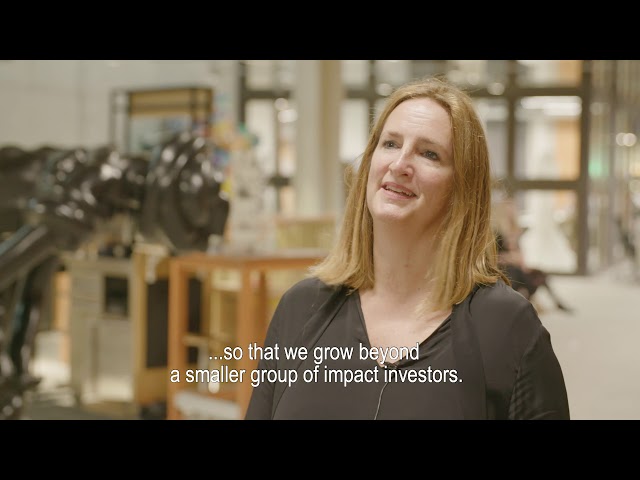 Integrated Capital Network: funding and expertise for impact entrepreneurs
In its convening role, the City of Amsterdam brought impact investors together. It co-developed the Integrated Capital Network, a growing group of impact-driven financiers that includes private investors, banks, foundations and venture capital firms. Learn more.
The financiers perform joint assessments during monthly labs to support participating entrepreneurs with a mix of financial resources, business expertise and networking opportunities to reduce risk, increase the chances of success, and maximise social impact.
Unpack Impact: the dos and don'ts of impact investing 
As the name suggests, this yearly event series hosted by Amsterdam Impact and Impact Hub Amsterdam 'unpacks' the best practices in the collaborations of impact entrepreneurs and their investors.
Each Unpack Impact edition also features an inspiring keynote by thought leaders such as Dr Charly Kleissner, co-founder of global impact investing network TONIIC, and Christian Felber, initiator of the Economy for the Common Good movement.